Product name:
Microwave equipment for drying pharmaceutical materials
Description:
Tunnel microwave drying and sterilizing machine is widely used in food industry, such as puffing, sterilizing and drying starchy foods, protein foods, rice products, pork skins, fish, and various snacks such as chips, shrimp pieces , apple chips, instant noodles, etc. It is also used as a microwave dryer for sesame seeds, pumpkin seeds, peanuts, Chinese chestnuts, pistachios, cashews, walnuts, almonds, etc.
Online consultation
Product description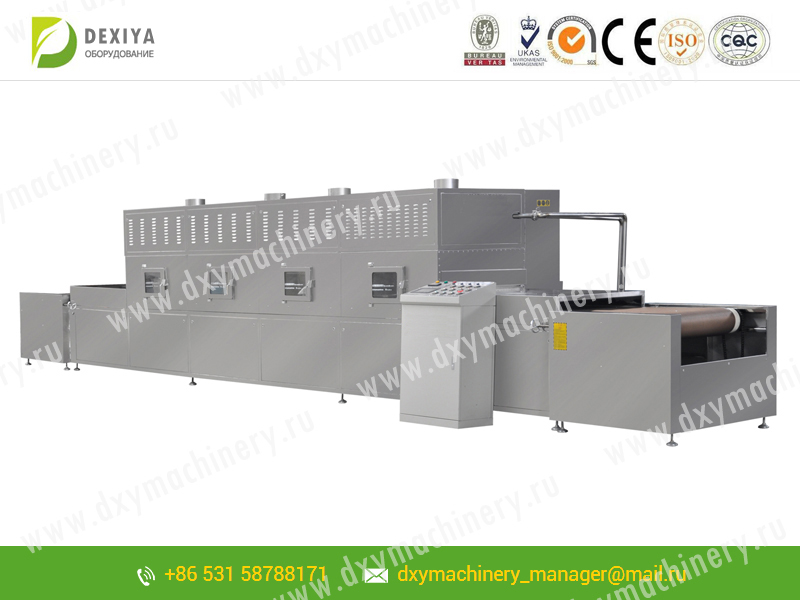 Specifications
Model: XH-50KW
Power input: three-phase five-wire; 380V ± 10%, 50Hz ± 1%
Super high frequency: 2450 ± 50MHz
Microwave input power: ≤60kW
Microwave output power: ≥50kW
Microwave power regulation range: 0-50kW (adjustable)
Temperature control range and accuracy: 0-200 ℃
Ambient temperature: 5-30 ℃
Relative humidity: ≤80%
Height of raw material inlet and outlet: 60mm (to manufacture according to customer's request)
Conveyor belt width: 750mm (custom made)
Overall dimensions: 14000mm * 1500mm * 1750mm (to be manufactured according to the client's request)
Transfer speed: 0-6m/min (adjustable)

Description
The microwave oven for drying chemical products is a continuous stump, which not only saves energy, but also can perform several processes at the same time. The plant is widely used for dehydration, extraction, decomposition and catalysis of porous, silting, granular or crystalline materials. The materials used include pure reagents, organic and inorganic chemicals, mineral fertilizers, high molecular weight polymers, catalysts, rubber products, reagents, new energy carriers and much more.

Benefits
The use of microwave energy in the chemical industry depends on the type of materials. A microwave dryer can solve many complex problems that traditional equipment cannot handle.

Applications
This microwave machine is suitable for a wide range of chemical materials, such as silica, activated carbon, primer, paint, organic and inorganic pigments, food additives, feed additives, chemical fertilizers, thermosensitive ceramic elements, fine ceramics, fiberglass, cellulose, rubber products, lithium hydroxide, lithium carbonate, cobalt oxide, nickel hydroxide, lithiated cobalt oxide, graphite, silicon carbide, copper oxide, zirconium hydroxide, catalysts, reagents, rare earths, functional polymers, biochemicals, organic electronic materials, etc.
Technical specifications
| | | | | | | |
| --- | --- | --- | --- | --- | --- | --- |
| Model | Frequency(MHz) | Input power(kw) | Output power(kw) | Dimensions(mm) | Drying productivity(kg/h) | Sterilization productivity(kg/h)терилизации |
| DXY-12 | 2450 | 18 | 12 | 7200x650x1800 | 12 | 100-150 |
| DXY-15 | 2450 | 20 | 15 | 8300x720x1800 | 15 | 120-180 |
| DXY-20 | 2450 | 26 | 20 | 8500x750x1800 | 20 | 180-250 |
| DXY-30 | 2450 | 36 | 30 | 10500x950x2000 | 30 | 280-350 |
| DXY-40 | 2450 | 46 | 40 | 10500x1050x2000 | 40 | 380-450 |
| DXY-50 | 2450 | 58 | 50 | 12200x1200x2000 | 50 | 480-550 |
| DXY-60 | 2450 | 68 | 60 | 13500x1200x2000 | 60 | 500-600 |
| DXY-70 | 2450 | 78 | 70 | 13500x1550x2000 | 70 | 700-800 |
| DXY-80 | 2450 | 90 | 80 | 15500x1550x2000 | 80 | 800-900 |
| DXY-100 | 2450 | 110 | 100 | 16500x1750x2000 | 100 | 1000-1200 |

Benefits
1. Unlike other puffing methods, this microwave oven is characterized by fast heating and short drying time. It does not induce some unnecessary chemical reactions and solves the problems of high fat content in products made with swelling in oil. The installation preserves the original color, aroma and taste of the products. The entire microwave swelling process is environmentally friendly, without the release of harmful vapors. This microwave equipment uses a physical process for higher thermal efficiency and higher yields than traditional methods.
2. The microwave unit is suitable for low temperature sterilization, ensuring less nutrient loss. The temperature for microwave sterilization is around 80 ℃ and the process itself takes 3 to 5 minutes. This allows you to maximize the preservation of nutrients. Let's take heat treatment of fruits and vegetables as an example. Traditional methods can only retain 46 ~ 50% Vitamin C and 58% Vitamin A. However, during microwave sterilization, 60 ~ 90% Vitamin C and 84% Vitamin A are retained.
3. Ease of operation and management.
4. Cryogenic sterilization preserves nutrients and traditional flavor: Microwave sterilization can be kept at a temperature of 75-80 degrees Celsius for a short time to sterilize the effect, so that it can keep food more nutritious composition and color, aroma, taste, shape and other characteristics, and extended the effect. For example, microwave cooking of vegetables, meat and other nutrients can be increased by 30%.

How is the quality of our products?
Shandong DXY Machinery Equipment Co., Ltd specializes in the production of single screw and twin screw extruders for a variety of food products, microwave drying and sterilization machines. All of our products have passed ISO, CE, RoHS and REACH certification, high quality guarantee, 3 years quality guarantee. We will offer after-sales services for a lifetime.
How is our team?
We have senior management and competent technicians, a research center where experiments, demonstration, teaching and training will be carried out, and at the same time, applied technology experiment is performed according to customers' request. We always pay attention to technical exchange, introduce advanced technologies, offer customers reliable technical support and excellent services.
Delivery time and how to install machinery?
We not only offer systematic automatic production projects, but also offer professional options for individual customer requirements. We have competent technicians and a strict production control system. From the moment of payment of the advance payment, your order is completed in 15 working days.
Where do our products work?
Our products operate and make a profit in countries such as China, Russia, Uzbekistan, South Africa, United Arab Emirates, Pakistan, Iran, Africa and many others. The company offers you the best products and excellent services. Shandong DXY Machinery Equipment Co., Ltd offers you the best products, excellent services. We will be glad to cooperate with you. Let's enjoy joint prosperity!
We will quickly answer your question