Product name:
Line for the production of bread crumbs
Description:
This line has changed the traditional technology for the production of bread crumbs. By mixing raw materials, ripening, chopping and sieving, this line can produce a variety of bread crumbs such as Japanese long needle breads, American grains and snow crumbs. Higher production efficiency, zero waste and different styles of finished products are the main advantages of this line. Breadcrumbs are a very popular food additive that is widely used in the field of roasting onion rings, steak, chicken leg, etc.



Online consultation
Product description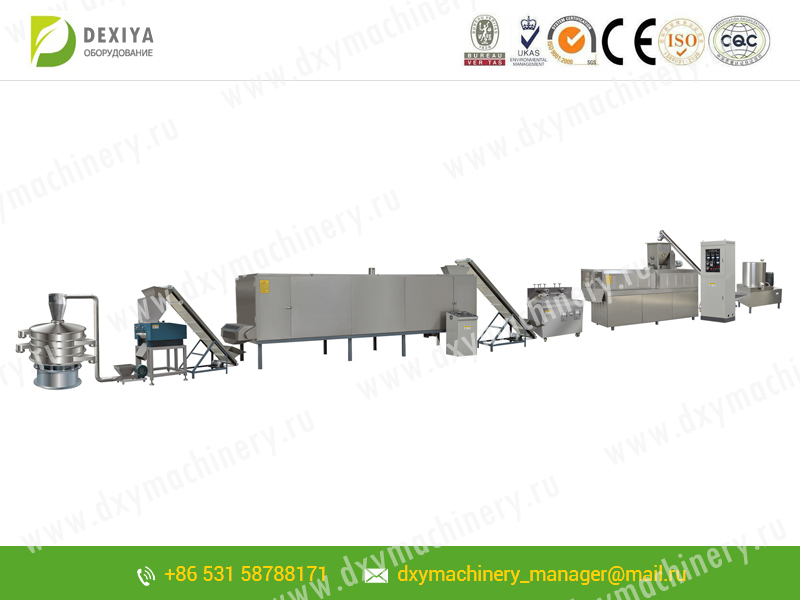 Samples of finished products: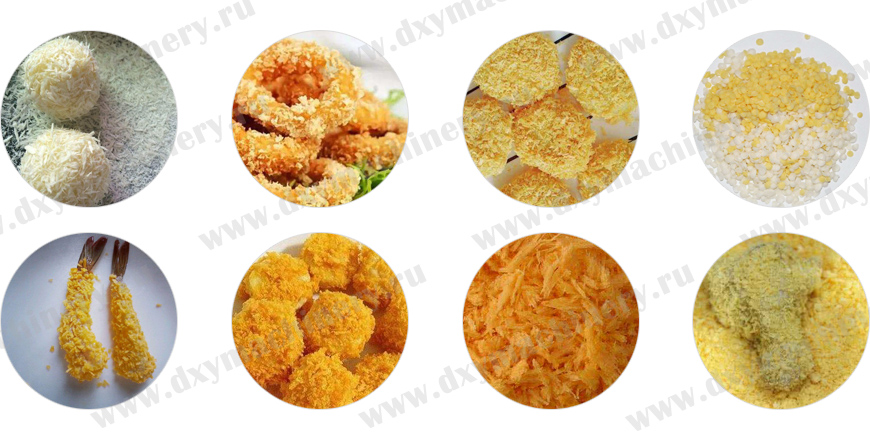 Technical specifications:
| | | | | |
| --- | --- | --- | --- | --- |
| Model | Established power | Actual power | Productivity | Dimensions |
| DXY65-II line | 66kw | 50kw | 100~180kg/h | 24000×2100×2800мм |
| DXY85-III line | 125kw | 94kw | 350~500kg/h | 27000×3000×3100мм |
| DXY70 line | 78kw | 58kw | 200~250kg/h | 24000×2100×2800мм |
How is the quality of our products?
Shandong DXY Machinery Equipment Co., Ltd specializes in the production of single screw and twin screw extruders for a variety of food products, microwave drying and sterilization machines. All of our products have passed ISO, CE, RoHS and REACH certification, high quality guarantee, 3 years quality guarantee. We will offer after-sales services for a lifetime.
How is our team?
We have senior management and competent technicians, a research center where experiments, demonstration, teaching and training will be carried out, and at the same time, applied technology experiment is performed according to customers' request. We always pay attention to technical exchange, introduce advanced technologies, offer customers reliable technical support and excellent services.
Delivery time and how to install machinery?
We not only offer systematic automatic production projects, but also offer professional options for individual customer requirements. We have competent technicians and a strict production control system. From the moment of payment of the advance payment, your order is completed in 15 working days.
Where do our products work?
Our products operate and make a profit in countries such as China, Russia, Uzbekistan, South Africa, United Arab Emirates, Pakistan, Iran, Africa and many others. The company offers you the best products and excellent services. Shandong DXY Machinery Equipment Co., Ltd offers you the best products, excellent services. We will be glad to cooperate with you. Let's enjoy joint prosperity!
We will quickly answer your question