Product name:
Animal feed production line
Description:
The technological process for the production of extrusion feed consists of several stages including the preparation of the feedstock stirring the mixture directly extruding cutting drying and adding seasoning. Grain meal meat and bone meal water as well as aromatic nutritional supplements are used as a raw material. DEXIYA twin screw extrusion line adopts combination screw design. In the meantime precise control is carried out to the production parameters and it is possible to produce different animal feeds using different raw materials and nutrients.
Online consultation
Product description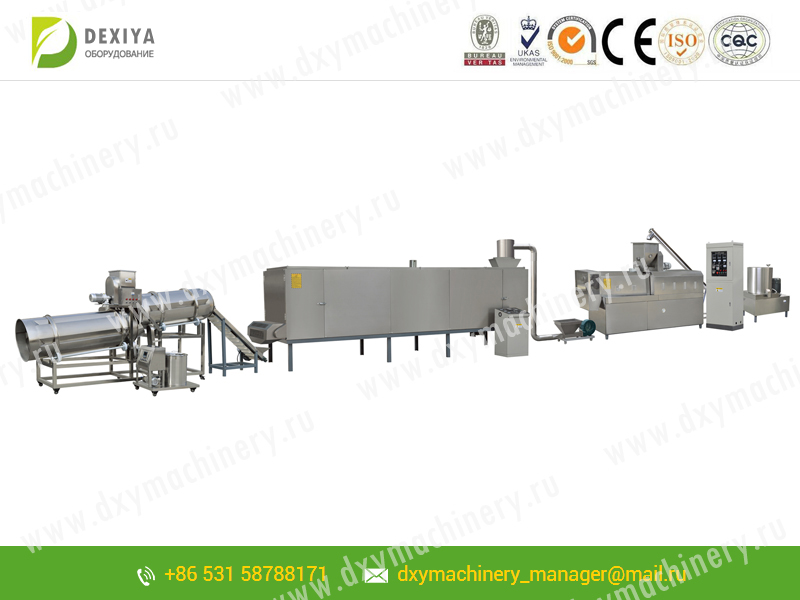 Samples of finished products:

Technical specifications:
| | | | | |
| --- | --- | --- | --- | --- |
| Model | Established power | Actual power | Productivity | Dimensions |
| DXY 65 | 72 kw | 60 kw | 100~150 кг/ч | 16300*1200*2450мм |
| DXY 70 | 104 kw | 85 kw | 200~260 кг/ч | 19000*1400*2500мм |
| DXY 85 | 155 kw | 125 kw | 400~600 кг/ч | 19300*1500*3000мм |
| DXY 95 | 385 kw | 365 kw | 800~1200 кг/ч | 36000*3000*3700мм |
| | | | | |
Now the most popular line is the DXY 70 model, with productivity of 200-260 kg/h. Many customers choose this model when replacing new equipment or starting a new business. To a large extent, it has a competitive price-performance ratio.
A standard production line consists of the following parts:
1. Mixer BF-Ⅱ
2. Spiral conveyor LX-1
3. DXY70-II Twin Screw Extruder
4. Pneumatic conveyor FSJ-2
5. Five-layer electric dryer DXYK-05D
6. Belt conveyor
7. Double drum for oiling SG-2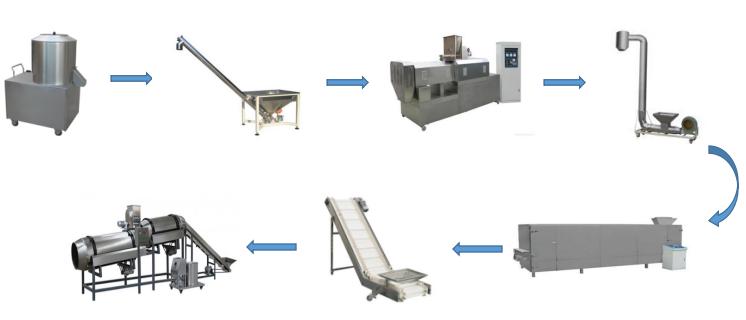 The line produces food for dogs, cats and fish by changing the recipe and the die of the extruder. At your request, we provide feed matrices with different shapes and sizes. We can customize the project and manufacture the equipment. For model 70, in addition to meat and bone meal, you can add fresh meat for production. We are glad to discuss the production technology with you.
We provide the necessary consumables for the line, such as screw, screw ring heater, knife, matrix, belt, dryer electric heater, etc. We do line experiment for customers before shipment.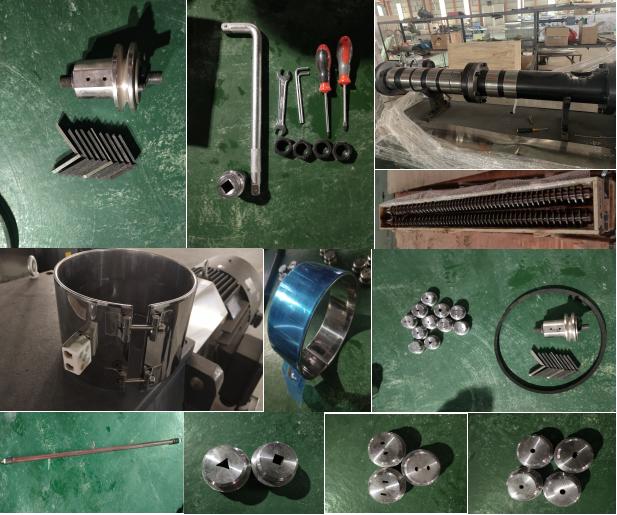 We make control panels in Russian and Chinese-English. For buyers, we provide a technical manual and commissioning and installation instructions of equipment.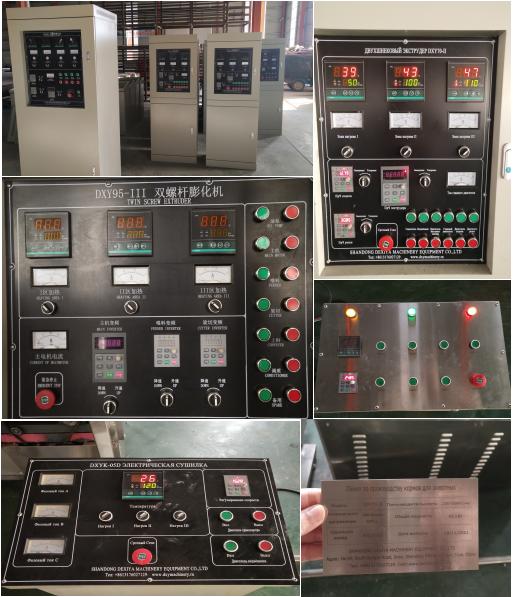 How is the quality of our products?
Shandong DXY Machinery Equipment Co., Ltd specializes in the production of single screw and twin screw extruders for a variety of food products, microwave drying and sterilization machines. All of our products have passed ISO, CE, RoHS and REACH certification, high quality guarantee, 3 years quality guarantee. We will offer after-sales services for a lifetime.
How is our team?
We have senior management and competent technicians, a research center where experiments, demonstration, teaching and training will be carried out, and at the same time, applied technology experiment is performed according to customers' request. We always pay attention to technical exchange, introduce advanced technologies, offer customers reliable technical support and excellent services.
Delivery time and how to install machinery?
We not only offer systematic automatic production projects, but also offer professional options for individual customer requirements. We have competent technicians and a strict production control system. From the moment of payment of the advance payment, your order is completed in 15 working days.
Where do our products work?
Our products operate and make a profit in countries such as China, Russia, Uzbekistan, South Africa, United Arab Emirates, Pakistan, Iran, Africa and many others. The company offers you the best products and excellent services. Shandong DXY Machinery Equipment Co., Ltd offers you the best products, excellent services. We will be glad to cooperate with you. Let's enjoy joint prosperity!
We will quickly answer your question